Can you tell us a little about yourself?

I am
Anatoly Belov
, an artist, working in contemporary art since 2004. My media are graphics, cinema, musical performance, music, recently I have begun to work more with text. Now I'm writing a script for a city fairy tale, which I want to portray later in a graphic novel. Topics I constantly work with are topics of identity, queer identity, the gay topic, everything that is close to me personally, and everything that I deal with through art.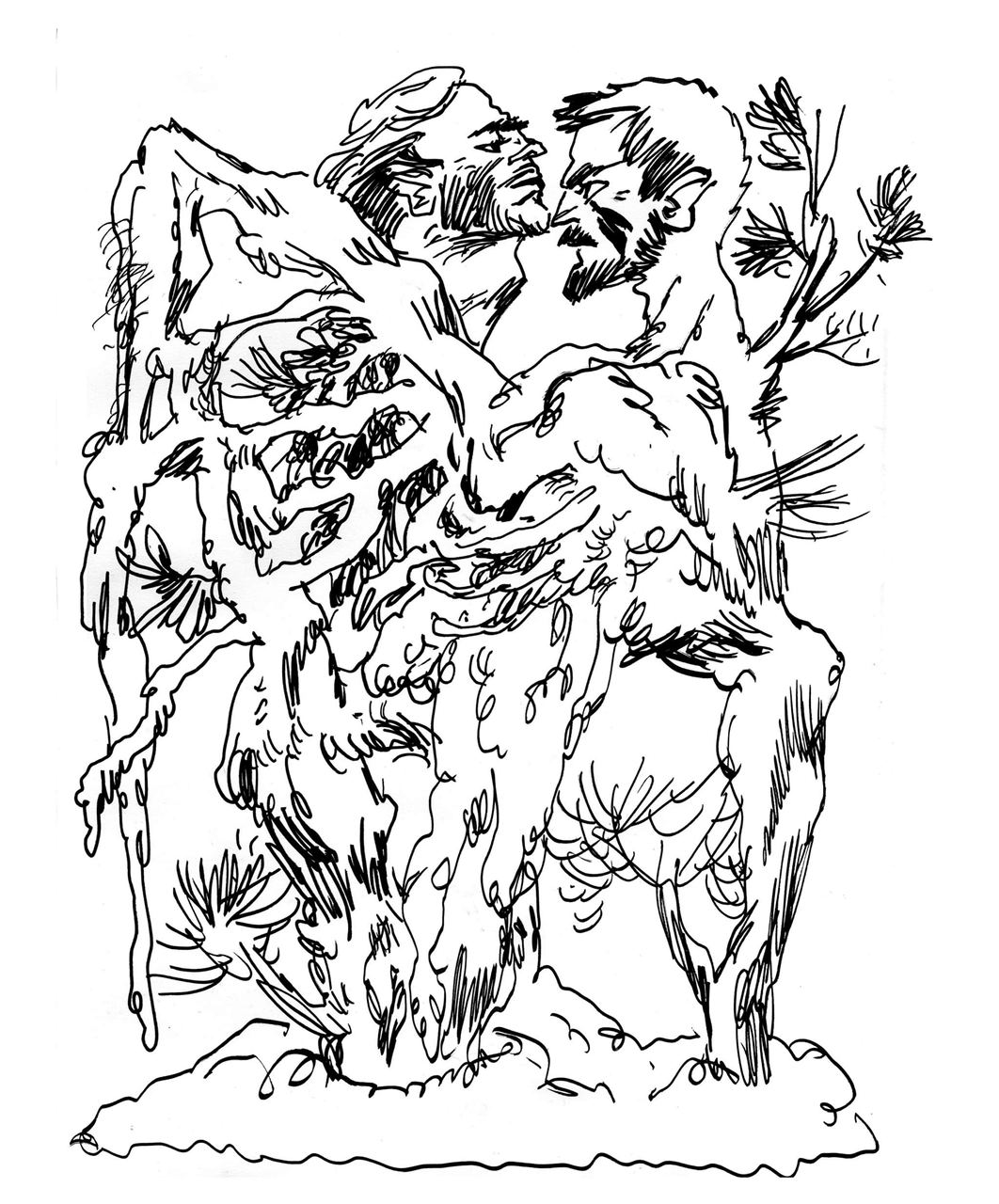 Can you say when did you realize that you are an artist?

I have been drawing since childhood, but specifically, that I want to go to art school and that I want to draw, I realized at the end of grade 4. The second time I realized after graduating from university when I was finishing book graphics at KPI. In the process of working on my masterwork "Satyricon. Petronio," some metamorphosizes happened to me. Then I understood that I wanted to be an artist, not a designer. I clearly realized the difference. I was horrified that I know anything about it. A big long work began on how to find a community, with whom we could do something together, communicate, and what I can do in art.
Did you found?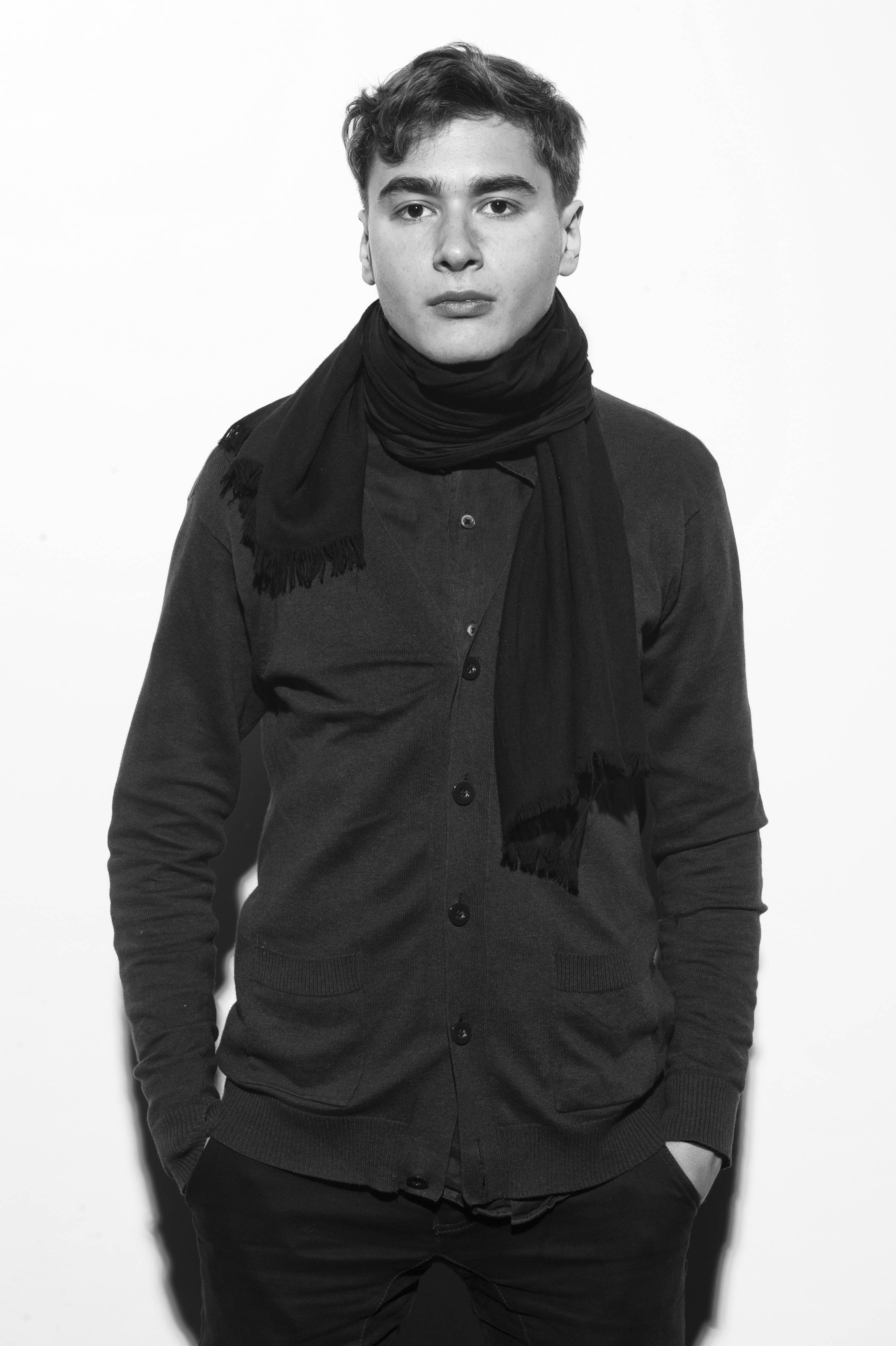 Yes. Those artists with whom I met first, have remained my friends to this day, and these acquaintances greatly influenced me. These are
Nikita Kadan
and
Zhanna Kadyrova
- the first artists I met.
How did you start?

I started with a very funny land-art work for the festival on the day of Ivan Kupala in Sharshary. I came up with an idea of a slide where lovers or anyone could come and throw wreaths. There were assistants with water nearby and they were pouring water from this slide, and the wreaths were floating into the river... Such as a conveyor of wreaths... Well, it was funny and strange... And this slide was still glowing, it was hung with a cloth, there you could hide inside and it was just like a tent...The performance itself began at 12 a. m. .. very romantic... And it was very nice when the old ladies came dressed in beautiful clothes for my performance as if they had really come on holiday.
Who is an artist for you?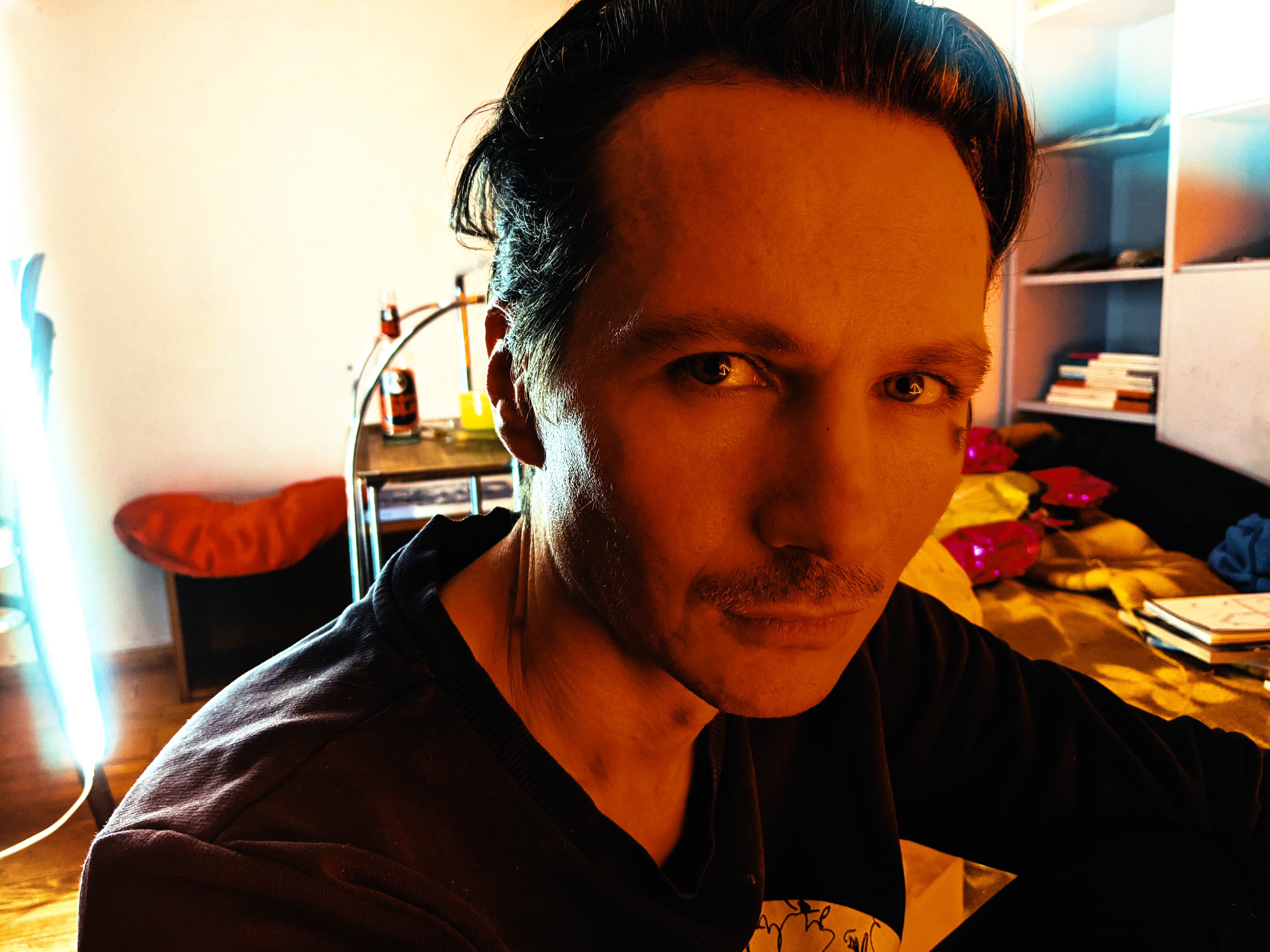 This is self-identification, when you realize yourself as an artist, then you become one, but you have to come to this.

Anatoly Belov, Oksana Kazmina: "Feast of Life," teaser, 2015
How do you determine that this person is an artist and that one is not?

Even if I don't like someone's art, but a person calls himself an artist, I accept it as a fact that this person is an artist, but he does this kind of art that is not close to me.
I know that art is what its creator and at least one other person consider art.

Yes, because the first person explains to the second why it is an art.
"This is still a thought process. Reflection on reality. It's good when there is a viewer with whom you can discuss it. You can brew in your own process, but most artists need it not to be a hermetic process."
What projects are you currently working on?

Recently,
Viktor Ruban
and I received a grant to work on our performance "Ritual-Fairy Tale for Cybele". This is a musical performance where I write psychedelic electronic music dedicated to Cybele. I started this project in 2018 and have now decided to develop the performative side of this project. I thought that it would be good to design a new ritual dedicated to Cybele, and for this, I needed the help of a professional choreographer who is close to me in spirit as
Viktor Ruban
is.
Cybele
is a Phrygian goddess, the mother of all gods. In the myth about her, there is a story about her earthly version with a queer transition from the bisexual being Agdistis to Cybele. This is the myth about Cybele and Attis, I was very inspired, and since I was inspired I continue to work with this story. I found points that contact my own thoughts, my life. I endowed Cybele with new properties, transferred the myth to the real modern world, endowed her with the powers of the intercessor and patroness of queer people, because she is a goddess with queer history, with a history of transition.
In the process of work, Victor and I came to the conclusion that what we get is not a ritual, but a fairy tale, but not in the sense that it will be a fairy tale, but a fairy tale as a more improvisational form. The ritual requires very clear actions, improvisation is impossible there, but possible in a fairy tale.
How many projects do you have in total?

Lyudska Podoba
with
Gosha Babansky
is a queer-pop project, non-trivial electronic pop music, Gosha and I specifically wanted to make it a pop project. Because there were no and there are no pop queer projects where themes from the life of LGBT people would be taken out. And so that it was not ridicule, but it was clear that this is part of life.
Cybele
is a music project where I make psychedelic immersive electronic music.
Tears of Ambala
was a project - DJ set + improvisational songs, but I closed it. I have more requirements for DJing, this needs to be done more.
There was also a group called
Penoplast
, at the very beginning, from which I began my singing. It was a performative group of artists. It was thrash-punk, we put on whatever we wanted, tied foam with duct tape, sang, squealed, it was a cacophony, shock music. It looked very queer.
After the disintegration of Penoplast, I really wanted to find a musical outlet for myself, and it suddenly turned out to be the
Emblika Quail
group with
Sergey Sommer
,
Mitya Ostudinov
, and
Dima Morozov
. Thanks to it, I learned how to sing, hit the notes. It turned out to be important... For a long time, I could not understand how, why these squares, yes… and Anatoly Belov - as an artist in the broad sense of the word.
Can you talk about queer culture in Kyiv and the topic of homosexuality, if this is not a taboo topic for you?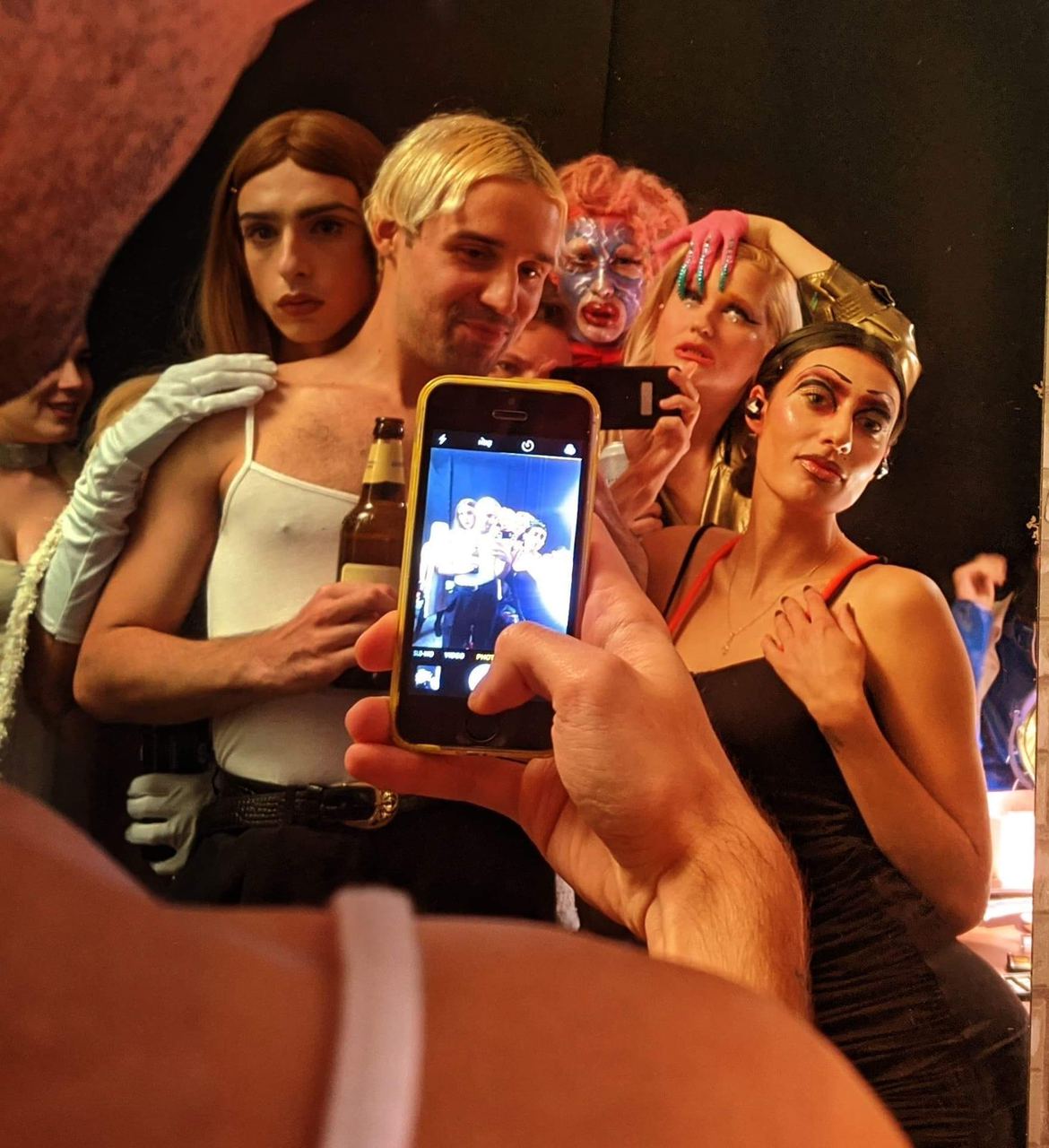 Of course, I will tell you, this is my theme, the theme of my art. I want to make people visible, queer culture. There are not very many queer artists and communities in Ukraine, but it exists, and it is developing. In general, I started alone, I did not know who else was doing what. Now there are new names. These are
Bogdan Moroz
,
Vlad Plisetskiy
, the
Celoe
art-group
,
Vlad Shast
with his performances,
Mutaphoria Lily
,
Anita Nemet
,
Panda
,
Aqualatex
. I would like to separately mention the artist
Alina Kleytman
,
Antigona
,
Oksana Kazmina
,
Bi Bi
,
Yana Bachinska
,
Anton Shebetko
. Poet-performer
Fritz von Klein
, writer
Vadim Yakovlev
. I'm worried that I didn't remember everyone. If so, I`m sorry.
Recently there was a Club Day party at
2c1b
. It was amazing, the best this year. I also performed there as a representative of the queer community. The organizers wanted to show a cut of the LGBT and queer community in Ukraine and not only. An American artist -
SheDiamond
, very cool, was invited. Everyone was very interesting to me. Also,
Aqualatex
performed, this is a representative of the gay club culture, works on the side of drag clubs, drag-queens culture. If I and
Bogdan Moroz
came from the direction of modern art, she came from the other side.
Is there any support?

It's hard to say about the support, we only got to know each other at the Club Day in
2c1b
, we understood who is who. Kirillovskaya is also great fellows that they have made such a free and non-binary space, this is a great contribution to the development of queer culture. I see no support from the state or institutions. Queer culture is practically not spoken about in Ukrainian society, let alone support. Within the community, everyone survives as best as they can.
Do you speak freely everywhere about your orientation or are there difficulties?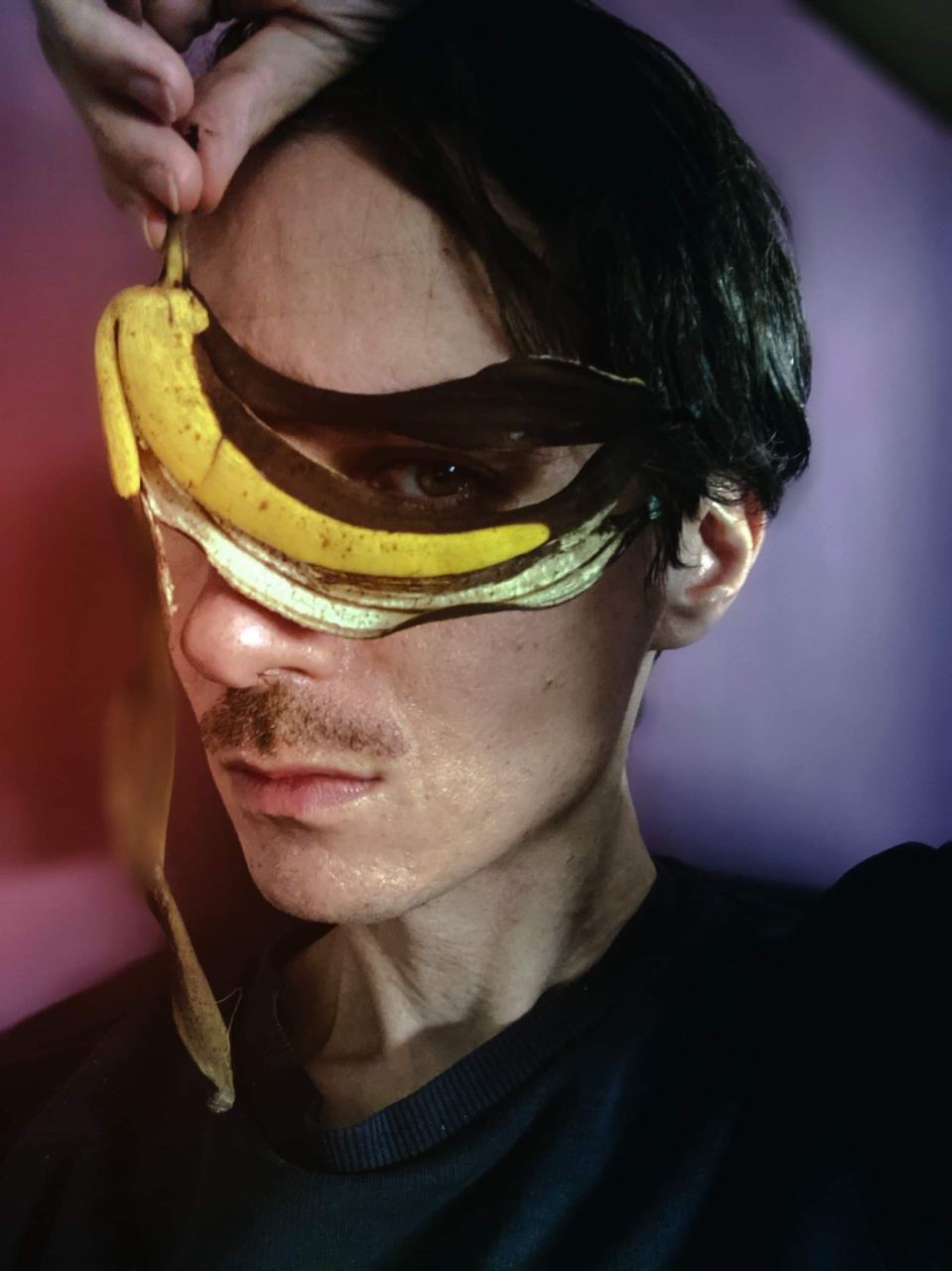 Not everywhere. I am talking about my belonging to the queer community, and in my bubble of friends I do not hide, on the contrary, this is a work that is important to me - the visibility of LGBT culture through art. But in my family, I still have not come out, because we are not close, and I still feel vulnerable in the general society and do not talk to them about it, and they do not ask.
How old did you realize you are gay?

I always knew this, it was just a long way to accept myself, because when I was young, and society, it was even tougher than it is now in terms of sexual and informational education.
How is quarantine going? How did lockdown affect you?

Lockdown was tough like never before. I don't understand how I survived at all, because all my money-making schemes have completely collapsed + people also do not have money to buy works. It was very tough, I survived, because my friend from Poland, a theater director, bought one of my works as support, and I was able to get through this period, otherwise I don't understand what would have happened. Anyway, I sit at home in Troyeshchina, drawing a lot, and feel good in this isolation.
Is it possible to monetize creativity?

This is a very relevant question for me now. I am currently in survival mode. Although not a long time ago I was an underground star,
Esquire
and other fashionable glossy magazines published about me, I was invited to speak, and when I collaborated with a Kyiv gallery I had sales of my works to good international collections, including the
Museum of Modern Art
in Krakow. They bought my video
"Sex, medicinal, rock'n'roll"
for the permanent collection. I received the
Pinchuk Art Prize 2013
. In that "golden" period for me, not stable, but I earned money with my art. But then, I broke off work with the gallery and since it stopped selling my work and cares about my development and promotion, we, as a group, began to perform less, switching to our other projects. People began to forget us, then Covid-19 started and all my money-making plans and schemes collapsed.
After the depression, I began the first steps to rebuild myself from scratch. I took an online course on film screenwriting from
Natalia Blok
, because I wanted to master the method of scripting in order to write my story and find a job as a screenwriter, then I took a course on art business from
Creative Law Studios
. I was very inspired by this course because it was great to learn the various legal issues that I did not know. It all started with my scandal with the Facebook group
Karas
, Sil-Sol where artists sell their art. This story gave an impulse to understand our rights. I was horrified at how much I do not know my rights and do not understand the rules of the market game. Galleries take advantage of this. Even if it seems to you that the gallery treats you well in the contract, unfavorable conditions for the artist are possible...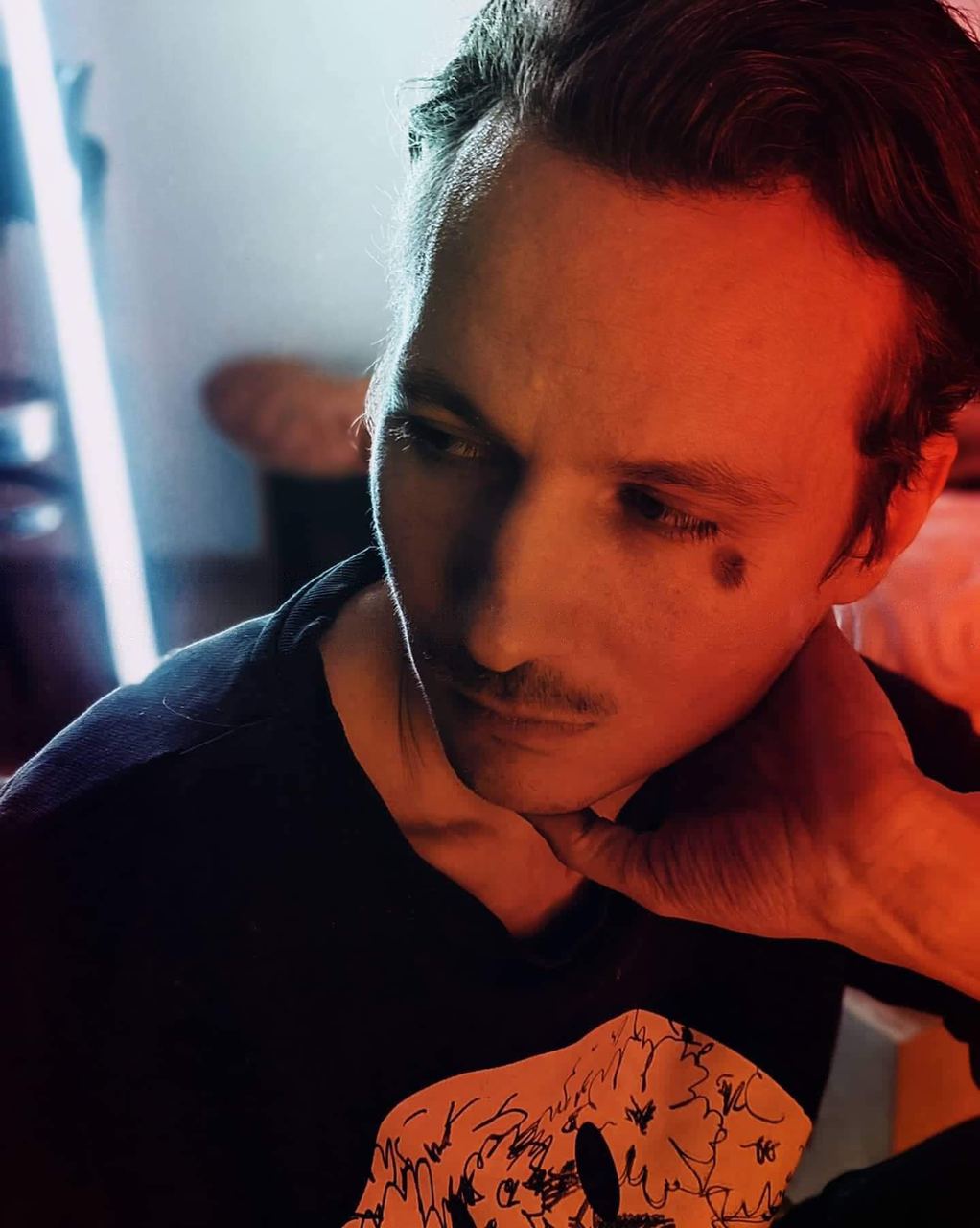 "This story gave an impulse to understand our rights. I was horrified at how much I do not know my rights and do not understand the rules of the market game. Galleries take advantage of this. Even if it seems to you that the gallery treats you well in the contract, unfavorable conditions for the artist are possible ..."
What kind?
For example, using your drawings for printing. You agree on the one thing, but the contract may be encrypted in an intricate language that your images can be used in print, on souvenirs, and you transfer copyrights on your work without receiving an appropriate fee for this. In general, you may not fully understand what you are signing. Such contracts are drawn up by lawyers who do it not from the position that the artist would feel good, but from the position of maximum benefit for the gallery.
What happened with the Karas Gallery?

When the
"SIL' SOL'" group
appeared, I was informed about it immediately. I saw that there was such a hodgepodge of everything and strange conditions: the tenth job must be given, then... I don't remember everything, but I didn't like it. After some time, friends send me a link where my work is sold in this group. The selling of my work does not support me in any way, but my name is used. I made a post-question about what happens, that I do not want my work to be sold there, who can comment on this .. Karas then publicly became rude in his video interview. He turned to me "Darling"... I was shocked that he was addressing me "Darling".
Aleftina Kahidze
reacted to this and said that she and Karas also had a strange story. My work was sold by
Konstantin Doroshenko
. This work was presented to him by
Lyudmila Bereznitskaya
, who once bought a large collection of my graphics.
Later, the lawyer
Olga Simson
joined in and said that my indignation makes sense because I sold the physical work, but I did not sell the copyright. The work does not belong to me anymore, but the right to the image remains with me - I have the right to prohibit the image from appearing in this group. That is, the lot may remain, but without a picture. For many people, it was a shock, because people in our country know little about their rights. As it turned out, Karas did not know about this either.
What in the end?

It ended up being bought by my friends with the idea of figuring out how to do the right thing in such situation, because in fact now this work belongs to them... I want to sign an agreement with them and transfer part of the rights to this drawing, which
Konstantin Doroshenko
did not have. He sold this work through the group and ignored all my requests. Together with
Alevtina Kahidze
and
Alexander Krolikovski
, we made a zoom puppet theater production "Legal Fairy or Yuridichna Buvalshchyna" where three legal stories from the life of artists were told, including my story with Karas. We showed this work at the Kyiv Art Week.
Name the artists/musicians who have influenced you?

Sergey Sommer
influenced me, also
Mitya Ostudinov
. Thanks to them, I heard and began to understand electronic music. Because before I met them, I was hanging out with artists and listening to a little bit different music. Cool, but slightly different. I liked music with vocals more and never listened to music without vocals. The maximum for me was that I could listen without vocals - it is the
Air
band and that's it.
Gosha Babansky
also greatly influenced me later. Gosha and Yana, vocalist of Lyudska Podoba, and I hung out a lot in Berlin, Vienna, where we were brought to, and feedback from Gosha was important for me, he shaped my taste.
Foreign artists?


The works of
David Hockney
,
Keith Haring
are one of the few whose sketchbooks I have in my collection. At a younger age,
Beardsley
. Artist of the Art Nouveau period. His work was so painful, so decadent and so dark, dark sexy that it really inspired me. I also made similar drawings and painted them in Paint. These were my first digital jobs when digital first appeared. And if you don't know this, you might think that these are such small, scrupulous patterns drawn by the ink liner, some kind of worlds, if you look closely. But it was more decorative, beautiful and also so decadent... I was also influenced by
Egon Schiele
, his manner of drawing the body. I liked how he plastically painted bodies, as no one else is more expressive. I also began to exaggerate physicality for expressiveness. Bones, muscles, are drawn correctly, but a little more exaggerated. I had never seen anyone do that before. In general, many influenced, not explicitly, but at the same time left a mark on my mind. Comic book culture and pop culture, in general, have a very big influence on me now.
Where do you get the themes for your works? Is there something inspiring you, or maybe something needs to happen for this psychic material to come out and it needs to be worked out?

This is a process. I am in a constant artistic process, I can do nothing, just live for myself. And for me this is also an artistic process because I need this calmness and nothing to do, during which an idea may appear, I will notice or remember something, or read a book, or a note, or watch a video. Anything can start. Just like with Cybele, at the party,
Nikita Kadan
told me the myth about Cybele and I was just shocked when I heard this story, and there were so many emotions. And from this came the whole project.
What are your plans for the future?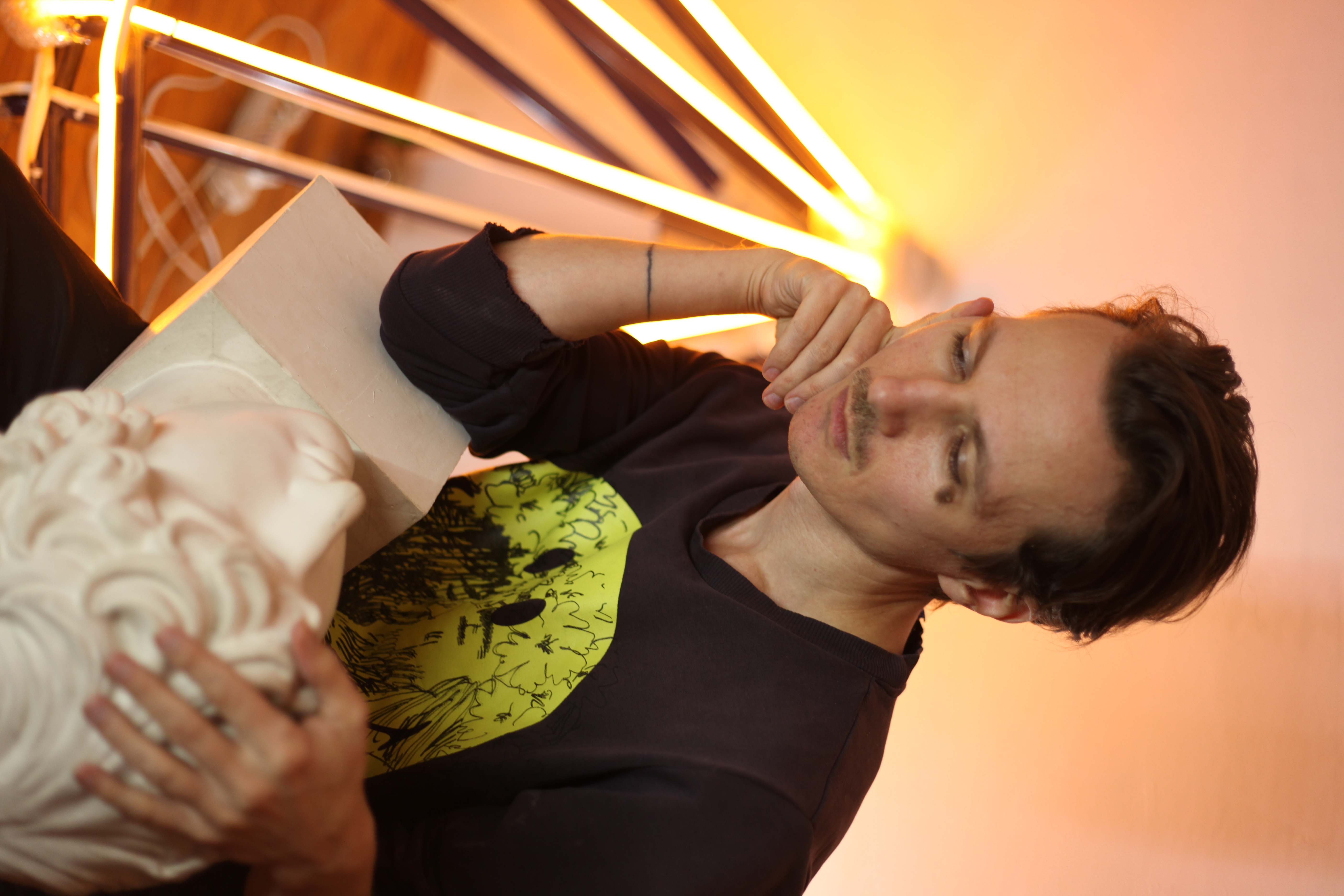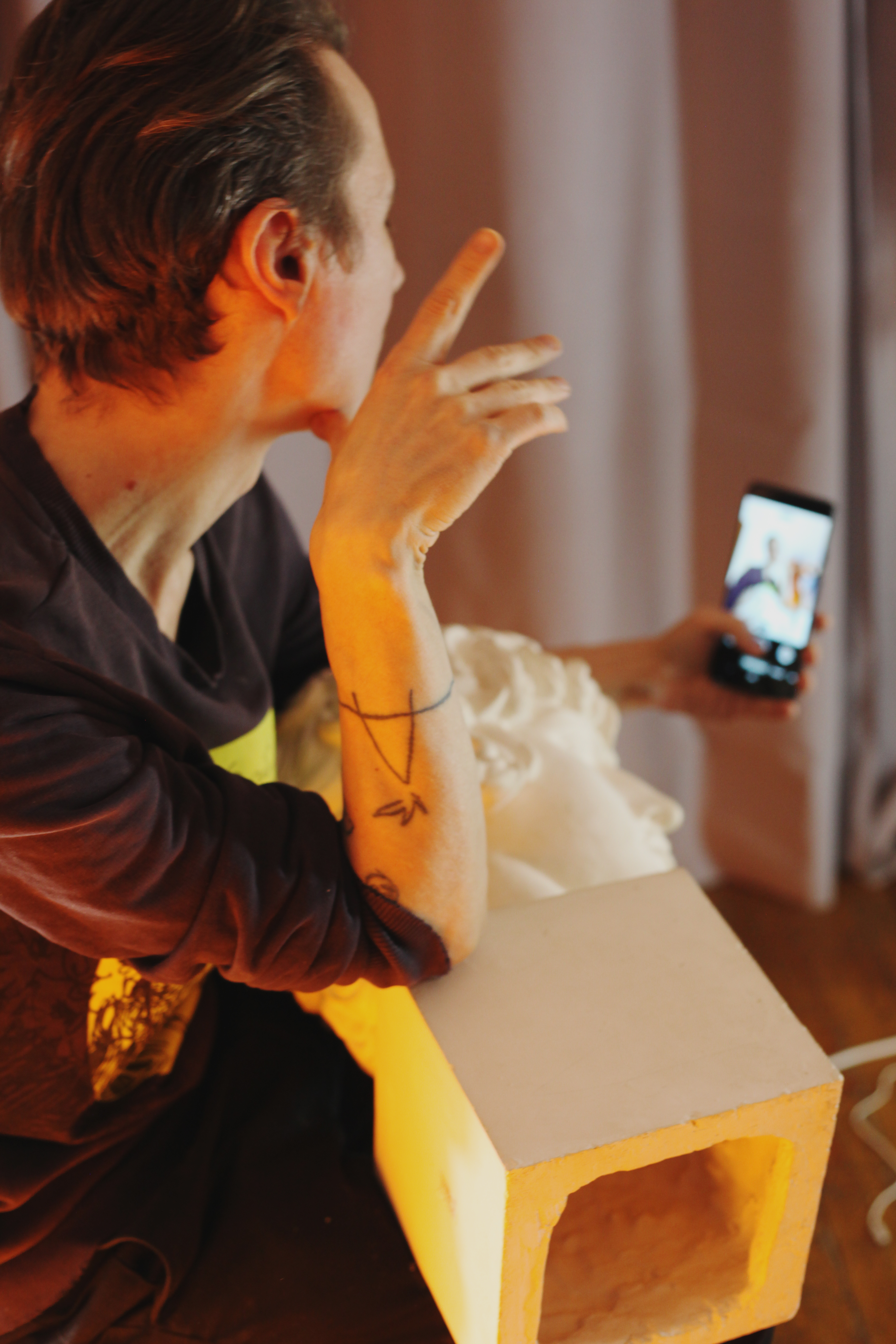 Become a millionaire .. Continue my work with Cybele.
Viktor Ruban
and I received a grant from Arts Link. We will find more money to implement the idea, and it will be just a bomb... It will be an amazingly cool work.
Thanks ♥️