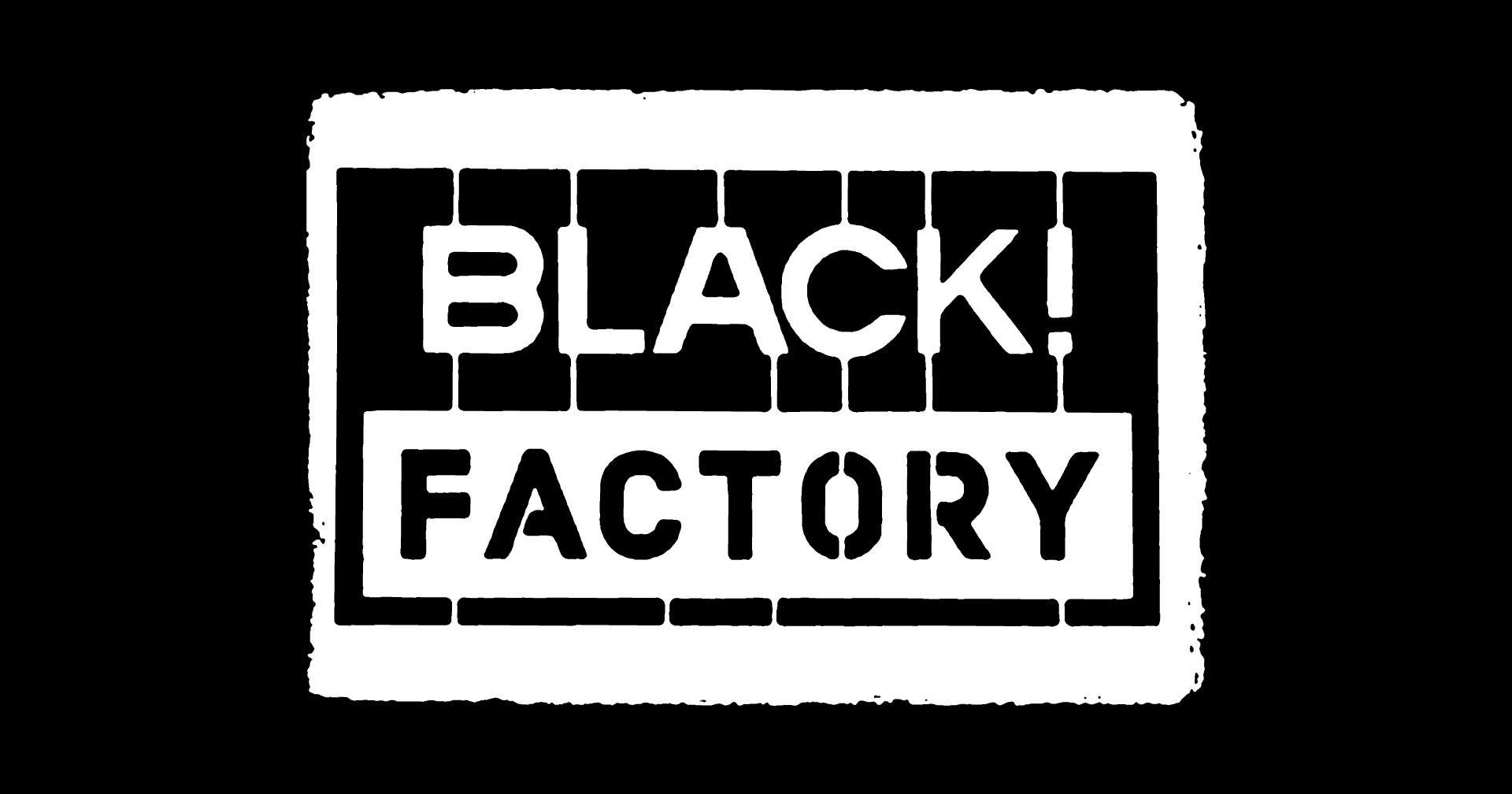 Black! Factory Festival 2019
Announce by @amoexuba
Nov 23, 2019


Website:
Black! Factory Festival

When:
November 29 at 9 PM – November 30 at 10 AM
Where:
PAT "Kyivmetrobud", Svitlohorska St, 2/25, Kyiv, 02000
Tickets
This year Black! Factory takes place outside of Closer - at the much more darker factoryard.

Team that stands behind the development of a Ukrainian forward-thinking music scene, takes Black! Factory festival on a complete new level. After, re-imagining Brave! Factory festival in a dark shades of black, Closer team asked their fellow artist and producers to make couple of kicks in a walls of Kyivmetrobud station.

Read line-up carefully🖤


ATARI TEENAGE RIOT (DE) — live


Atari Teenage Riot is a German band which leads darkforces since 1992. Highly political lyrics, which include left-wing, anarchist, anti-fascist views with punk vocals and the newly emerging dark techno sound called digital hardcore, which is a term band member Alec Empire used as the name of his record label.



BAMBU (UA)


Bambu is a Ukrainian DJ, resident of cult Kyiv's Closer club. Founder of fakedtunes Kyiv based record label, spreading immersive & visionary electronic dance music.



DAVE CLARKE (UK)


Dave Clarke is a living legend of techno music, named "The Baron of Techno" by BBC radio presenter, John Peel in 1996-97. Born in Brighton, East Sussex, England, The Baron of Techno keep influencing underground EDM scene.



IGOR GLUSHKO (UA)


Igor Glushko is a DJ and Closer residend, also a co-founder of a record label and events series called Rhythm Buro, on which regularly perform huge names like Actress, Varg e.t.c. Igor plays from vinyl, varietions of hypnotic techno, dub techno and hybryd genres with a more complicated rythmics.


JANA WOODSTOCK (UA)


Jana Woodstock is a Kiev-based electronic DJ who who plays heavy banging techno and electro selections and gradually expanded her music choice with more colors of dark - EBM and noisy industrial tracks, adding some more slow and trancy melodies. Jana is a resident of Osnova (Kyiv) and Joy (Moscow) party series and frequently plays at Cxema parties.



K-X-P (FL) — live


K-X-P are pure experementators who's style varies in space of sounds. They describe their sound as Original - Electronic - Motorhead - Space - Trance - Spiritual - Rock - Meditation - Freejazz.



MONOCONDA (UA) — live


Monoconda Ukrainian live electronic musician. Masterskaya records representative, will show dark side of an alphabet with his moon-shiny synth pads.


MOTOBLOK (UA) — live


Motoblok is an industrial techno live artist, based in Ternopil, Ukraine. With his dirty, glitchy and distorted sound scapes, he purely represents darkness of a wild survival.



NASTYA MURAVYOVA (UA)


Nastya Muravyova resident of Kyiv's cult Cxema parties. Today she is one of the most active players of the Ukrainian electronic scene who easily combines the job of an air hostess and DJ, pulling through and even succeeding in both.



PLANETARY ASSAULT SYSTEMS (EN) — live


Planetary Assault Systems is Luke Slater's most renowned alias. Alias gave to Luke success and have left its definitive mark on more than 15 years of Techno history.



SHAKOLIN (UA)


Shakolin is a Kyiv based DJ, Closer club resident and master at tackling the dance nerves.



SPEKULANT (UA) — live


Spekulant is Kyiv's most renown electro project runned by Konstantin Lobanov and Alex Savage.



SUICIDE COMMANDO (BE) — live


Suicide Commando is a Belgian electro-industrial project runned since 1986 by Johan Van Roy.



THE EMPIRE LINE (SWE) — live


The Empire Line is Jonas Rönnberg's (AKA Varg) group project with Damien Dubrovnik's Christian Stadsgaard and Iron Sight vocalist Isak Hansen, channels that spirit into something chaotic and punishing their infusion of power electronics + the physicality and catharsis of punk rock.



THE HACKER Presents AMATO (FR) — live


The Hacker Presents Amato. Michel Amato, widely known under his moniker The Hacker, has decided to shift the focus of his productions from new wave and electroclash and started a new project Amato, more inspired by EBM and fast German techno of the 90s. In Kyiv, he will present it for the Ukrainian audience for the first time, armed with a powerful set-up of analog synthesizers.



TIMUR BASHA (UA)


Timur Basha is the co-founder of Closer, responsible for establishing friendly musical relations between Kiev and Japan. But seriously, Timur's DJ sets are always a journey through the magical music world full of beautiful soundscapes and strange finds. An insider, expert, talented collector and member of Progressive Future label with his own unique style in every move - all this is about Timur.



UNDER BLACK HELMET (LT) — dj set


Under Black Helmet is Lithuanian rising star in the dark blue sky. Julius Laurašonis collaborates with Code Is Law label and Holland's leading label MORD; sharing venues with Dax J, Phase Fatale, Stanislav Tolkachev and Kobosil, and even the idol of the artist Jeff Mills spoke with admiration about his recordings.



VOVA KLK (UA)


Vova KLK is a Kyiv based DJ, Closer resident and master of morning nostalgic and melancholic vibes.



YOURA (UA) — live


Youra is Kyiv's famous project ranned by Yuriy Bardash. Youra have raw and explicit performance which looks fantastically straight-forward.

Tickets: