Hi, Elsa! It's a pleasure to chat with you. How are you?
Privet dear Vladik, the pleasure of chatting is shared! Am really happy to read you :) Am fine. Now it is early morning and I drink a third coffee while writing to you.
Haha, awesome. Coffee makes me feel comfortable in the morning. How did you meet Vanya?
We met through Soundcloud, as I was asked to produce a livecast for Система livecasts serie. I worked on this livecast as never, Vvanya found me first, he is a real digger, not obsessed by his own artistic work like many artists, but open-minded and generous.
After this release, we kept a connection. I could not expect to meet someone like him, now we share our lives and projects (sorry for romance but that is the truth).
How did Система appeared and what is the idea behind Система?


Система
is an initiative by
Vvanya Samokrutkin
, he is the architect of this project from the beginning. This project is drawing some connections between live music archives, digital label activities, art and music events planning and curations, for many years. Система supports emerging artists through promotion, diffusion, and invitation to perform. Система plays an active role against "gate keepers" in the music industry, by giving some space and opportunities to newcomers and outsiders.
You live in between France and Ukraine. Can you feel the difference between scenes?
This question is great, but this is a topic for two or three books of comparative studies by experts to be honest. Anyway, I can compare a bit what we know and live in both geo zones, on the musical aspect. In France, I play regularly as
PIDOOM
, my terrorcore/anti music side project (a fast and violent type of music, based on a big rate of BPM). I play mostly on experimental stages in France with this project: it is in France that I feel anger against my culture and myself, the most. This music is connected to this inner anger. PI DOOM is a fictional character who deeply needs to scream some desperation and revolt, blended with my post catholic heritage with this project (the name of PI DOOM refers to the mad pope PI XII, who had responsibilities in the crime of shoah). PI DOOM sound is about excesses of blind believing and mass hysteria of religion.
SHORT EXCERPT/ PI DOOM LIVE FESTIVAL VISIONS

At the moment, I have never played such a hard music act here in Ukraine. But I want to.
In Ukraine, I mostly played as a DJ here with groovy and dance floor material, I have more opportunities for this type of performances. I also enjoy this aspect of music because I love some endless nights and because Odessa in summer is a charming place to go out and dance.
These two contexts–France and Ukraine–are different on so many aspects, my position–actual–does not allow me to draw stereotypical aspects about such complex questions. Living between two civilizations and alphabets is quite schizophrenic, I only begin now to enjoy this reality sometimes without feeling lost. We share our civilizations and languages with Vvanya, it is challenging to live with two mentalities, but it is how we see the world: out of borders. We also work with international artists and do not build any national identity pride, we are radically against all forms of nationalisms and we say it loud.
You just released a great sample pack on a Система label. Can you tell us a bit more about a sample pack? What inspired you to create the sample pack?
Sample packs are exceptional tools to produce interesting music from fragments. As a producer, I began to produce music from samples and developed a practice of sampling that I use both in dj sets and live acts.
I recorded this sample pack with one analog semi modular synth. This animal of metal and electricity entered my life four years ago. It was my first synth like this, and I spent one full summer listening to it in the flat, without even playing so much. The plasticity of this sound is incredible and I like to listen to these signals. I like them because I do not know if they are beautiful or uncomfortable.
These samples look like rhythmical elements of some architectural spaces: friezes of repetitive motives, vertical arches of winds, fragments of the tympana. This sample pack is a fiction of ornamental arts, paying tribute to the graphical heritage that may still inform our experience of the spaces (and our imagination of these spaces).
It is named
"L'oiseau perché"
, because this figure of bird in the trees is a typical figure in the history of art. This bird does not fly and that is why I like it.
Your music is well connected with art. What is the story behind art affiliated to the sample pack?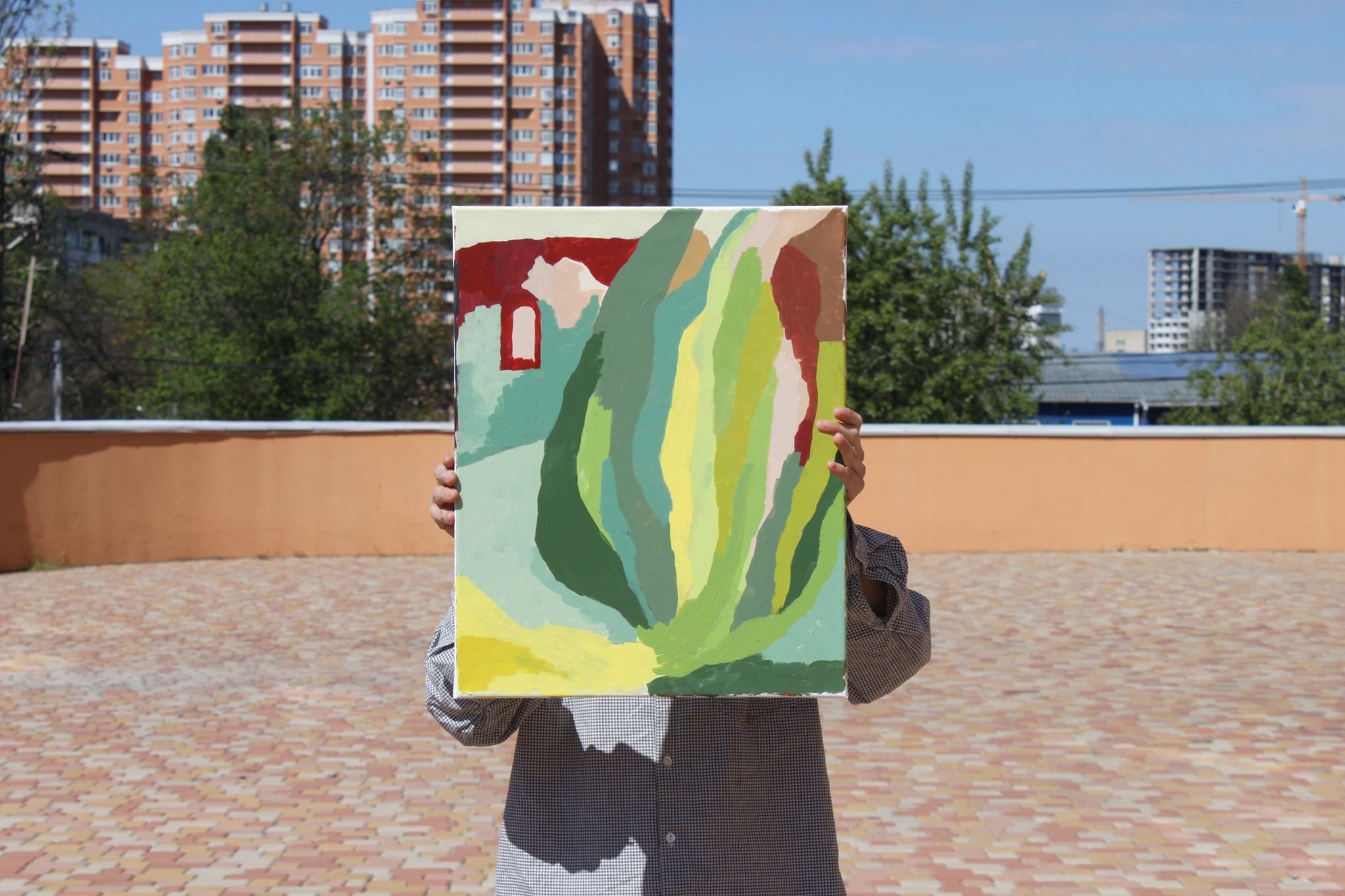 As the instrument sings its repetitive song, I paint and forget a bit of its existence. I listen to it, sometimes adjust the signals, listen, try to feel it. I take the time to forget that the sound is on, sounds develop in the space without my action. The signal structures and organizes the space and the time, as a recurring wave. The song of the machine is both petic and sad. It reminds me of the movement of the hand which draws repetitive figures, and the feeling of high and empty space in the gothic religious constructions.
While painting, I behave like with music. Most of all, I watch calmly and try to see what is there, happening now, without trying to follow one already decided and hectic plan.
What gear are you using?
For this sample pack, I used exclusively the Red Square 2 (Analogue Solutions). It is a monster (heavy weight and sound).
Where do you get inspiration from during the creative process?
I do not like the word "inspiration" as used in a neo classical way. Most of all, I draw every day for more than twenty years, and my body reminds me of it. This is the real inspiration: memory, distorted memory shapes my imaginary world. The choreography of my hands does not need me so much to paint.
I feel the memory of my body and this reminiscent memory brings back some forms and figures in my work, in music like in visual art. The incipit of my aesthetical story is written by the memory of my body, through the hands movements. It was a big aspect of my art research for years and still is.
mute- performance filmée- extrait
For music, I listen to the instrument, not to myself playing it. From one point of view, sound does not need us to exist and to become music. It may be a kinda "ready made" approach to instruments and sounds, but I do not like when people overplay their actions on machines, I think it is very naïve to act in front of your instruments like Deux Ex Machina.
I do not create art like a god but more like a nun or a scrib. If you look at my previous art practice, you will see that this figure of religious scientific is recurring, and may qualify me as an artist and researcher on some points. I love graphic design too and develop a serie of posters based on our paintings works on
Coppélia Press
. Journey in colours. After years working exclusively on drawing process/ movementof the hand, I have huge pleasure to dive in the colour spaces.
Your favorite artists and why?
I can not say that i have some idols, but some have my interests:
I write about the history of art as an author and art teacher. I wrote one book last summer for french Ministry of Education (CNED), about Women Artists at the Classical Age, so I will choose to highlight some of the artists I teached and wrote about.
I enjoy some pastel works by
Rosalba Carriera (1673-1757)
, she is an Italian artist who had a very active career, mostly as portraitist. She developed a characteristic use of nuances to link the figures to their environment. As a portraitist, she developed a technique which makes the model look much more beautiful than he/she is in reality. At any time, successful artists are always the ones who know how to flatter the powerful ones, in one way or another.
I also want to talk here about some artists i met 10 years ago in Palestine in a workshop, and whose works deserve attention:
Bashar Alhroub
I have some huge respect for the work of
Bashar Alhroub
, a Palestinian artist working in different fields from installation to paintings and performances.
Also
Palestine Hosting Society
is a project that needs to be mentioned:
Mirna Bamieh
استضافات فلسطين
is a live art project that investigates food practices in Palestine, founded and run by artist Mirna Bamieh. Mirna is an artist and cooker, she studies traditional food with a diversified practice, and a deep interest in societal aspects of art and immaterial cultures.
I also do appreciate the works by some Odessa based drawing and tattoo artists like
Jora Schwin
,
Jenia Skorik
,
Viktor Prokhorov
. These 3 can draw what they want on my skin.
Your favorite movies and why?
I do love
Yves Netzhammer
animation works, because of its calm existentialism and its weird representation of human violence.
I also love all the works by
Delphine Priest-Maheo
, an artist who draws some mesmerizing animated movies, incredibly beautiful and anxious.
Audio vidéo work by FOUL "THE LETTER" 2018


I also have a big interest in the work of
FOUL ART GROUP
, a Bangkok-based artists collective, working in the fields of media art, sound, video. They develop great research and ideas about Thai society and social normative pressures. Some of their works will be published very soon on Система.
Your favorite books and why?
Maurice Merleau Ponty, L'oeil et L'esprit.
This is one small and bright text that Merleau Ponty wrote at the end of his life. In this book, he describes the way we live the world through our experience of the body. He also writes vibrant ideas about the act of painting and the feeling of emergency.
I also recommend to read the -cult-underground-monument:
TAZ/ The Temporary Autonomous Zone
, a book by Hakim Bey (Peter Lamborn Wilson), which was published in the early nineties. He denounces spiritual addictions as some slavery tools, and calls for revolutionary joy in everyday life. He shapes some concepts as poetic terror. This book is about autonomy and space, free form utopia. It is a controversial book, qualified as naïve by some, but it had influences on me (and on some many others) who like free parties and related cultures.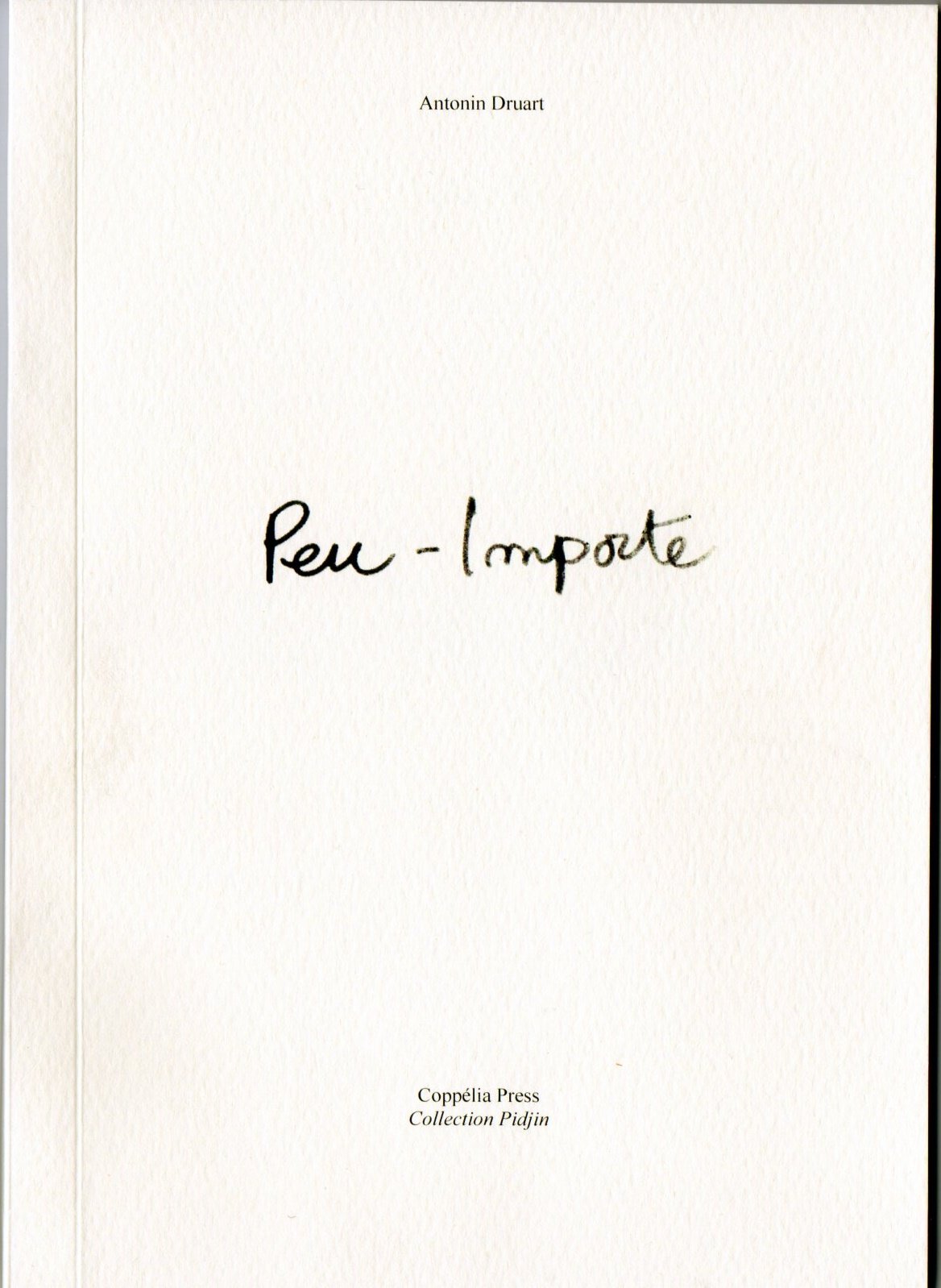 I also have a crush on the style of
Antonin Druart, Peu-Importe
(roman in french language). We published his book these past months with
Coppélia Press
, and I need to say that I am proud of this publication. Without any easy pathos, the author creates a fantastic architecture of micro stories and absurdist characters through a brilliant textuality practice of nearly two hundred pages. It is not an easy book to read but it is both intelligent and funny.
What was your weirdest performance?
As a musician? Many were weird, but one was particularly absurd. One time I was invited to play some abstract music live set in one party. Organizers decided that I needed to play after a peak time DJ set, that was really catchy. As my time to play was more and more near, I was feeling more and more anxious: a big crowd of people was dancing and feeling the dancefloor, even air was wet and warm. It was horrible: I was literally asked to break a collective energy by my performance, on demand of the organizer. It was very violent for me as an artist and for the dancers who were enjoying the dancefloor. I broke a dancefloor on demand of organizers with an experimental abstract act, while I am also a big room dj and could have rock it without this curation mistake. This experience was my biggest music trauma. But anyway, my life is a patchwork of various traumas axaxa.
If you weren't musicians who would you like to be?
A painter or maybe a drawer ;)
What are you doing during quarantine?
I paint and record music. I also eat in my bed and worry.
Ia izouchaio vach iazik tojé ;)
Liubov va veki vekov <3
♥️