Hey, Julia! How are you feeling, and how are you going through the quarantine?

Hello, Val) The mood is not bad. I am waiting for the PCR corona test at the moment. A necessary irritant, off our days.
Tell us about yourself? Where are you from originally, from which family? At what age did you discover yourself as a painter?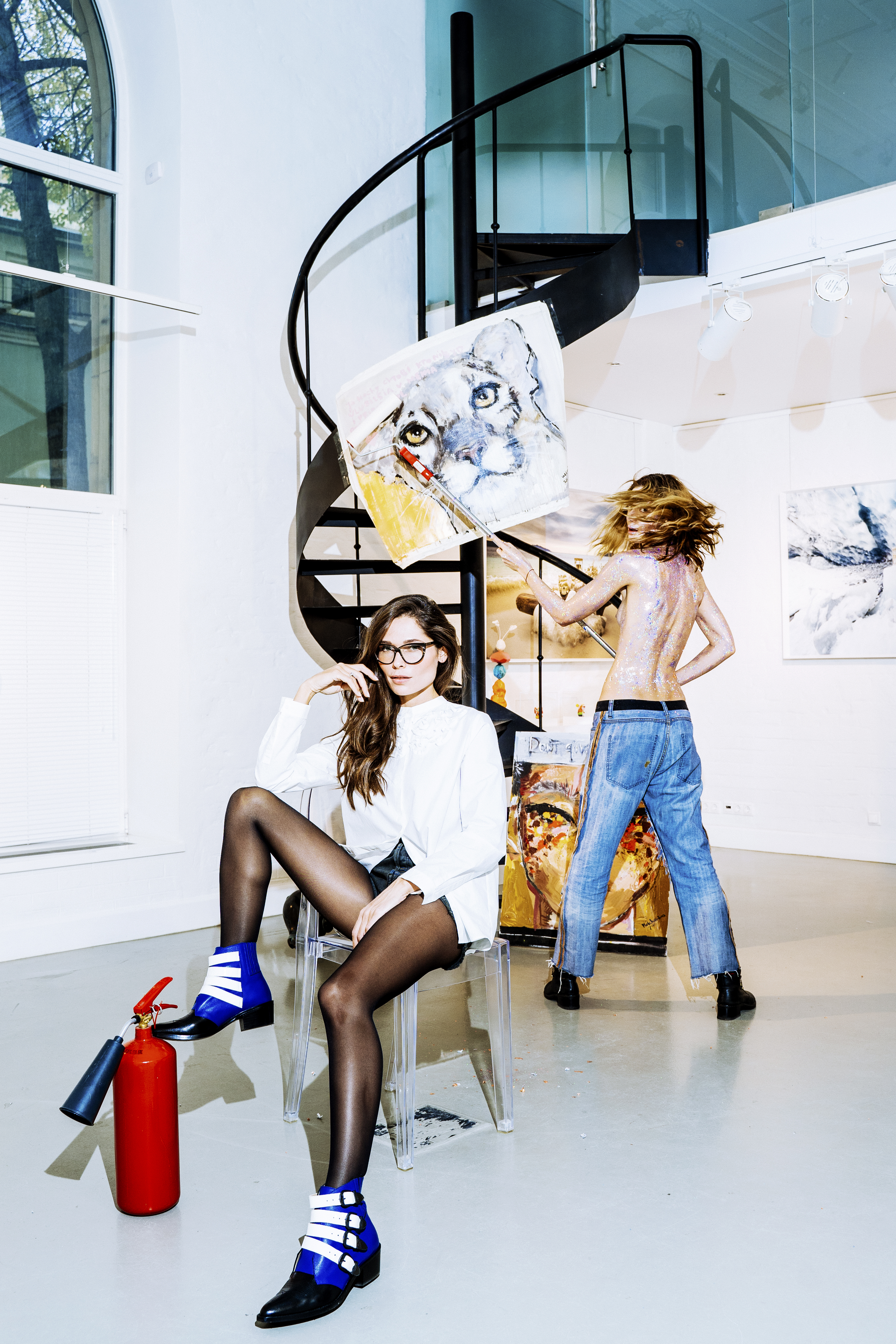 My name is Julia Peker (Mokhovikova). I am a painter. I have been working in the style of fantasy neoexpressionism for ten years. I was born in my favorite city Kyiv. In a family of engineers.
What has brought you to neoexpressionism, and what styles did you experiment with before?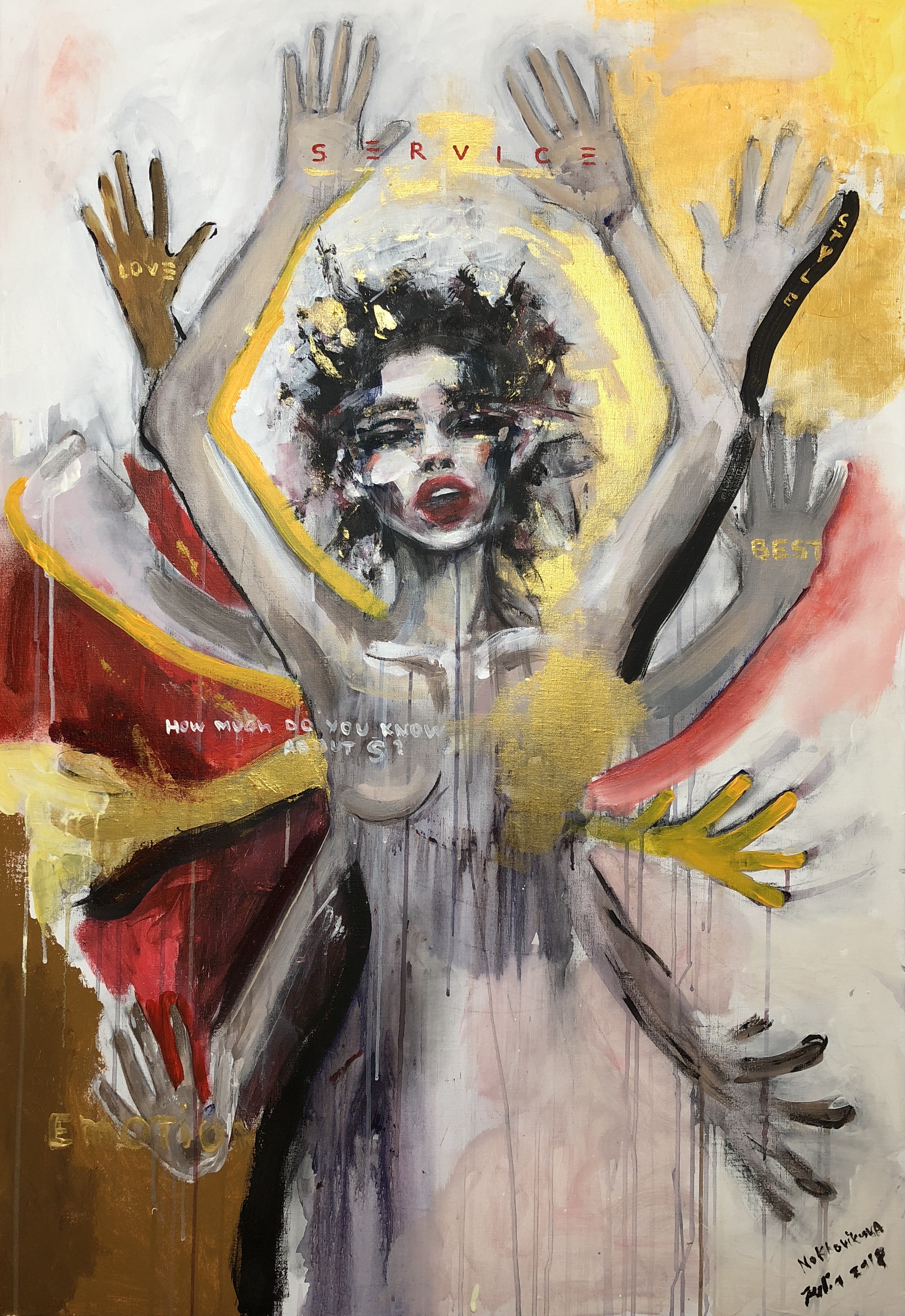 In the beginning, I experimented with architecture and modeling business, but that did not satisfy me. I had an existential crisis at the age of 23, and I was in an unhappy state, thinking about my calling. I was exploring myself for a couple of months, then bought paints, brushes and started painting. I immersed myself in art! I was learning how to work with the material, studying the history of art, and contemporary artists, flew to the best museums and galleries in the world to look at those masters about whom I read books. As for the style, I always stick to the same vision, but I had to come up with a name for it. My characters are childish, and my landscapes are suggestive. They are from a separate fairy tale that does not exist.
Is the fusion of bright and sometimes aggressive colors on your canvases a reflection of your soul?

I have no soul.
What art is closer to you in a spiritual way? Fine arts or more experimental contemporary art?

It depends on the mood. Today I study the art of contemporary artists, and they are closer to me.
Looking at most of your portraits, I feel that you are, inspired by the heroes, or heroines? :) Is it correct, and who could you boldly call your muse?

Yes, it is. You have met one! For me, beauty is a talent. Beauty can be, looked at for a long time, and when nothing starts to annoy you about it, but the opposite, and when there are contradictions in beauty, this is pure love...
Are the frequent animals appearing on your canvases the metaphors or the natural manifestation of your love for fauna?

That is a mix of everything, and it depends on my mood. I love my job, and I can do everything I want, and change it all, however, and whenever I want.
I am curious to know who is your clients? Which countries, among which groups of people and age categories your art is appreciated?

Kyiv, Moscow, Zurich, Geneva, Milan, London are the cities where I ship my paintings. The portrait of my typical client is a middle-aged wealthy person who has a small collection of works by contemporary artists.
Is it possible for artists to achieve commercial success if initially, they do not set a goal for themselves and expressing their feelings instead?

Yes, it is. If you do something cool, then over time, you will need feedback, and you will think about this question. If you look at the history of art, everyone who went into it was successful in terms of money, Michelangelo, Jean Michel Basquiat, and many others.
Do you use political themes in your works?

They can flicker sometimes, but not as a leitmotif.
In your opinion, should a contemporary artist have political problems integrated in art or is it better for artistic people to remain apolitical?
In order to have a clear civic position, you need to understand politics in the way of science, which has to be studied for 5 years at the university. Then you gotta study finance, geopolitics ... in general, you need to spend a huge amount of time studying this field, instead of doing your job and improving your works.
What have you been inspired by lately?

I have been inspired by poets and writers. Such as
Mayakovsky
,
Guillaume
Apollinaire
, and
Bukowski
. Now, I am in the process of creating a small jewelry collection called "
Poem
". Items will be — made of white and yellow gold.
What do you think about the importance of higher education for an artist? And what about you?

I think it's very important as a base. And if you have the opportunity to choose a good university it's happiness. I'm an architect by education. And studying art for the last 13 years..
Do you agree with the popular opinion that nowadays it is not enough for an artist to be talented, but a good artist needs to be able to sell himself?

For me, it sounds like: "A good surgeon cuts good, but it is not enough. He needs to be able to sell himself." The whole history of any style of art – painting, dancing, music, literature — everyone who is successfully earned their fame with their talent. These are inseparable concepts.
I know that you love yoga and meditation. Do you do this solely for health and beauty, or as an experience? Is it a source of inspiration for you?

Yoga and breathing techniques help me to get rid of my anxiety and panic attacks, like any physical activity.
Do you consider genius and insanity to be related concepts that are barely possible one from the other?

These concepts are not related. A genius person may or may not be a madman, a drug addict, a maniac, an atheist.
Do you have your favorite artist?


There are hundreds of my favorite artists. For example
Francis Bacon
,
Bosch
,
Basquiat
.
Do you remember the moment of your life when you realized the importance of pictorial art?

Since the age of 23, art has confidently and rapidly become my way of life.
Who or what has influenced your art the most?


There is nothing. The mass of everything has affected me, artists like
Nicholas Jaar
and
oil paints
.
Are you planning to connect your life with other branches of art?

I don't know what to answer.
Tell us about the history of the creation of your painting called "Bitcoin?"


I ordered tondo round canvases from my contractor. I did not expect them to be cool, and complete. Cuz themselves, they have looked like pieces of art. And then I got an idea to ground this beauty with news from the yellow press. The most popular news appeared, "Bitcoin is rising in price." It interested me. Back in the day, I was reading poems by Solomon and realized that they would be perfect for my bitcoins. That is how it happened.
Which of your projects is your favorite?

The exhibition, in the Hermitage. My painting, called "Service" took part in it.
What impact has the quarantine had on your life and work?

My plans went wrong, but there are positive sides to it. Many good orders for my clients, for their residences and offices. And I finally had time for my jewelry project, which will be released soon.
What was the last exhibition that you have been to? Why did you decide to go there?

Exhibition of Japanese prints, in Kyiv at the gallery, on Sofievskaya Street. I appreciated the scale of the video series and the embodiment of the prints in the media. And I bought a book there.
What is your favorite art movie?


Exit Through the Gift Shop.
What is your favorite country, and where would you like to see your next exhibition?

I planned to make exhibitions in Moscow and Paris this year.
What is your favorite museum?)

MOMA.
Do you have love in your life, and how does it affect your art?

I have got the largest love on Earth, but I do not know how it affects my art.
What do you think about the importance of digital self-representation? Like artists do through social media, and so on?

I am sure that the modern way of presenting your work is a cool insider. The Art business system, with its rigid bureaucracy, has not changed in the past 100 years. And no matter how paradoxical it may sound, it did not accept new ways of presenting art. But art is the absence of stereotypes, and if new tools have appeared, then you can try interestingly using them. One of the ideas for the artists is that when work or project is finished, you have to show it to as many people as possible, and the internet allows you to do it in the best way. There is a moment of elitism and particularity, but it is possible to show "yourself" as a special brilliant in social networks.
Is there something important you would like to convey from yourself to all young artists? What advice would you give to those who are struggling with their art?

The keys to success are: learning all the time, working hard, becoming responsible at work. Make plans and implement them, and young artists should remove that stupid attitude and stereotypes about "poor genius misunderstood artists."
Thanks! ♥️