Exposition environment
Shukhliada
– a three-part space. Part one is represented by the physical object. It is here that the artists' works are displayed and exhibits are held. Part two is the Internet as a unique representational form for exhibits. Part three is the viewer's field of perception, as targeted by the entire visual potential of the other parts. Here, the object, snatched from the world of ideas by the artist and fixated in the physical world, returns to the "ideal" world, where it acquires subjective traits and meanings by interacting with every viewer. All three parts work together not just as exhibition locations capable of giving the displayed objects the desired scale, but as an environment for addressing a variety of artistic and social problems, from institutionality to inclusivity.
Hello, how are u? Tell us a little about yourself
Hello! Everything is alright. I`m Lera Polianskova. I like the English-language wording "artist". Seems to me, it corresponds the most correctly to what I am doing. I and my friend Max Robotov created the
SVITER
art group, then we met artist Ivan Svitlychnyi and then started the virtual exhibition environment project
Shukhliada
. In the SVITER art group we began this whole story as a musical band, as a group project, and then we realized that we are interested in spreading all sorts of other fields and disciplines.
Are you an artist and musician?

Yes, but by education, again, unfinished, I am a theater critic. I also worked as an actress and librarian.
Why such a name SVITER?

It started with the fact that we decided to come up with the worst name that could be for a musical group and then we realized that SVITER was in the lead.
How did you start the project and when?

In 2008 in Kharkiv. Before that Max played in two more bands, and I worked at the 'Arabesky' theater. Max then came to 'Arabesky' as a sound and light engineer, and, in general, he has an education as an engineer of unconventional energy sources. In the same 2008, we met
Ivan Svitlychnyi
. Audio for that time (in the Ukrainian artistic environment) was not a very familiar instrument. On this basis, we realized that we have something to complement each other.
In 2009, we contacted the director of the Culture Center, which was in the department of the Thermal Power Plant. It was a beautiful three-story building, so-called the 'Stalinist Empire' style, in which nothing happened, and everything that happened there was in the basement, in the bomb shelter, where the director grew mushrooms. And in the building itself on Saturdays and Sundays, there were meetings of Gideons International – Christian association.
And the director, a very nice person, allowed us to do whatever we want. So we made free workshops there, exhibitions & festivals, organised free of charge studios for artists, a recording studio. All this continued until the re-election of the mayor in Kharkiv. And one sad February morning an excavator drove up to the building, dug up all the electrical communications, some guys came and cut off the light. Some of the other guys were clothed in a special uniform, they said that no one was allowed to be here, and this story ends. It was an illegal takeover and we had to leave this space just in one day. We were wildly frustrated. We had plans for this place, it had its concept and was called
TEC (TETZ)
. TEC is a creative experimental center.
What's the idea?
Create a grassroots, niche center for contemporary art. Horizontal structure. We wanted some form of a municipality because we understood that on our resources this all could not last long. We found some points, but we were asked to wait for the mayoral elections and everything stopped there.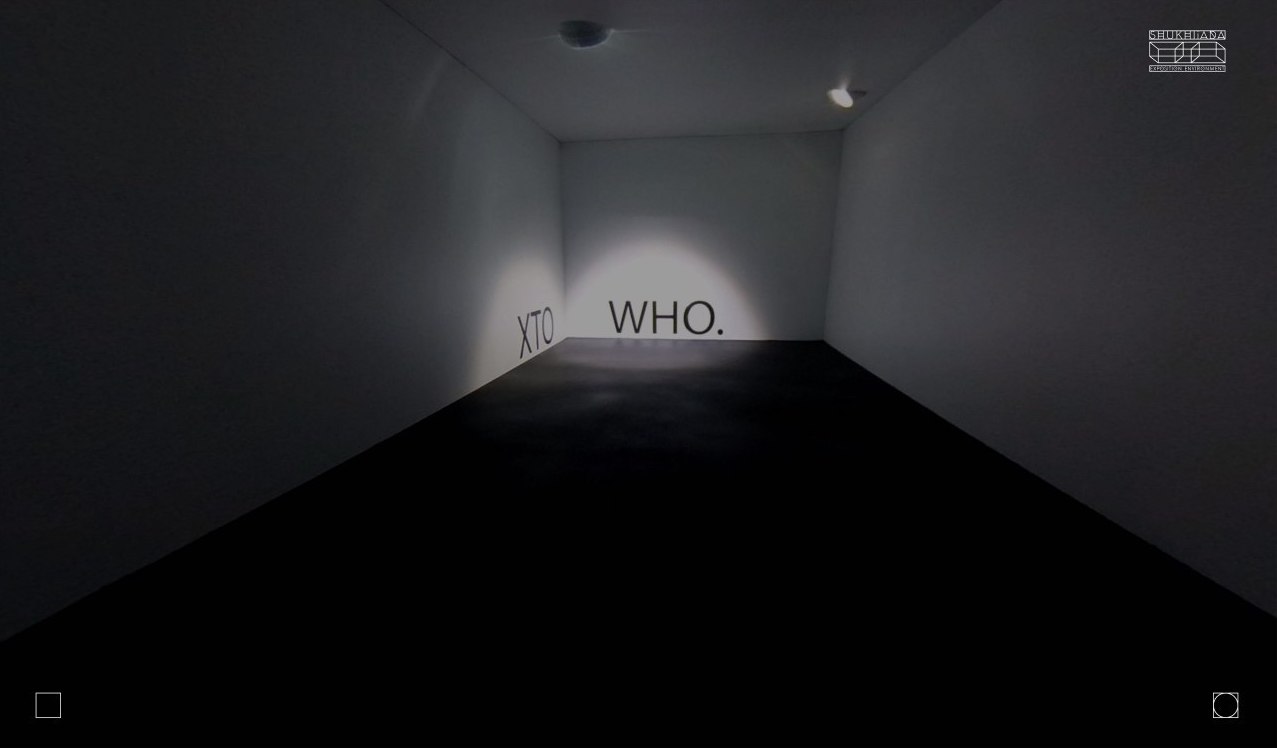 How did Shukhliada begin to emerge?
Shukhliada began to emerge when we were kicked out of the TEC. For about a year we could not think about what happened, because it was very traumatic.
How long did SVITER last?

It still exists as a musical project.
Why Shukhliada?
Ksenia
: From willing to work "for the desk drawer", but the opposite.
Lera
: I can describe the answer by the phrase:
"What is the difference between Shukhliada and a 3d-tour of the Louvre? "Shukhliada" is a place without frustration."
Here I look at Djakonda, and in the Louvre it probably looks more effective. Everything that a viewer watches on the monitor in
Shukhliada
is the final product.
Is isolation productive or destructive for you? And for the whole community.
Ksenia
: I worked even more than usual. And for artists, I know, it feels like the way of life they were striving for suddenly became legal. All the social phobia of artists here has received a legal connotation. I think it was a positive and good time for artists, in this regard. And now we will have a rather painful exit into the world.
How can artists join the Shukhliada, is it possible?

Lera
: Shukhliada works more as a curatorial platform, we realized that this is a more comfortable interaction, more productive, which works through a curator who contacts and offers participation. We have already scheduled a program for a year.
Ksenia
: But we, as every institution, dream of new, cool artists. We ask not only to send a portfolio but if someone sees a form of interaction that would be adequate to Shukhliada, with a deep understanding of the meaning of this space, then we will be happy.
Can you tell us about the exhibition of Olexiy Sai "Control freak"?

Ksenia
: Yes. It's already started and will last a couple of months. It is one of those exhibitions that can be viewed in a variety of approaches, and each of a new approach to viewing will be unique. This exhibition is very much about the viewer, about the viewer's experience.
The exhibition is called "Control freak". This is about the feeling of losing control, about the feeling of falling illusion that you can control everything. "Control freak" is almost a diagnosis, a phenomenon in psychotherapy, familiar to many curators. This is a kind of test of this control. The viewer over the institution, the institution over the viewer, and all this tension of exchanging art for the experience.
What needs to be done to improve marketability?

Ksenia
: Artists don't have to think about how to sell their works. They have to do art. Not thinking about how to educate buyers or nurture new collectors. This is the task of institutions and government ones too. Artists should sit in their professional deformed bulbs and go about their business. When artists start to think about how their work will sell or think about how their work will be perceived, it will be very bad for their art. Institutions just have to do their work, then they will buy more, perceive more. Buying art is not the only way it can be supported. Now there are programs, there are residences, there are grants. Art does not have to be something that will be understood by the viewer, it should be understood by the collector.
Lera
: In general, art owes nothing to anyone.
Ksenia
: This is a territory of freedom, where you can talk about everything, where political correctness or even morality is in a great doubt. And for this, society needs art, it is such a testing ground, space where you can ask yourself questions, comprehend and reflect.
Lera
: The biggest problem is the lack of time and the fact that you have to choose.
"The biggest problem is the lack of time and the fact that you have to choose."
Do you have any partners?
Lera
: This is one of the reasons why I whine. And I believe that every artist in Ukraine has the right to whine, to consider himself disliked and under-realized. Because our society is not culture-centric, our society is some kind of get-together. We periodically begin to whine when you arrive somewhere from Ukraine, show Shukhliada and everyone praises you madly, but here you come across some kind of indifference... Ivan Svitlychnyi was in the residence of the Ujazdowski Castle in Poland, they liked "Shuhliada's" concept, they offered their partnership as an advertisement and an additional announcement because now PR is our weak point. I liked the phrase by the artist Lesya Khomenko that we are deservedly marginalized.
Are you implementing projects with your funding?
Ksenia
: Yes, this is all done by the heart.
What is art for you?

Lera
: I constantly find myself in moments of torment: «I am an artist! And in my opinion, you are shit!» (©Daniil Kharms). All the time I try to find a better job and better use for myself, but in the end, I realized that this is the only comfortable environment in which I can exist and be some lesser freak. Those who are in this area, especially in Ukraine — for them there is a certain moment of self-destructive recklessness and love in all this. Even if you are a well-sold artist in Ukraine, it is still a kind of asceticism and heroism. There is some absurdity and madness in this without which it would be difficult for me to live.
Ksenia
: Art is an elite area of culture, it still cannot be understood by everyone until the moment when it turns into an element of mass culture. It is elite in the cultural sense, and not in the sense of "elite", it is still a narrow audience, it is still difficult, it is still on the crest of some acute social processes, some kind of internal psychology. Art is at the forefront, where it should be, where all illnesses manifest and where healing can occur, especially if it cannot happen anywhere else.
Lera
: I would like people to conclude that art may be pleasant, may not be pleasant, but it has a right to exist. This is what art teaches — that something can exist regardless of whether you love it or not.
"I would like people to conclude that art may be pleasant, may not be pleasant, but it has a right to exist. This is what art teaches — that something can exist regardless of whether you love it or not "


Thanks
❤️